Welcome to the homepage of the Northumberland Light Blues Club (LBC).
What's new since your last visit ?
NYMC Conference Report 2021
A summary of a report on the New and Youngs Masons Clubs Conference 2021 is now available (Updated 11/11/2021)
Visiting Schedule for 2021 & 2022
We have produced a visiting schedule for the Light Blues Club for the remainder of 2021 through to the end of 2022. The schedule includes Lodges within a wide range of Masonic Buildings throughout the Province and we would welcome any Light Blues to come and join us on any of our visits. (Updated: 27/10/21 – Ver 2, Alnwick and George Stephenson swapped)
New Book Review
A new book review was added to the Resource Review Page on 7th October 2021.
Click here for a review of this book – The New Mason's Friend.
Resumption of Activites
The website was reviewed on the 9th August 2021.
Brethren, it is great to see a return to regular meetings ! Many lodges have elected to resume their meetings from September 2021 but some lodges in our province have already started regular meetings and have already conducted installations and live candidate initiations!
The Northumberland Light Blues Club will be holding their first team meeting, since March 2020, on Monday 16th August, 2021. Following this meeting we hope to be able to update the website with a new 2021 / 2022 Lodge visiting schedule, as well as possibly outlining some upcoming events. Keep checking back for updates !
We are back !!!
NYMC Mini Monthly Conference
The website update on 8th June 2020 included…
A summary of the report on the NYMC 2019 conference held at Freemasons Hall, Leicester.
The website update on 29th April 2020 included…
Details of a visit to the Isaac Newton University Lodge No 859 in Cambridge
About the Northumberland Light Blues Club
The LBC usually meets on the first Monday of each month, at 19:00hrs, at a selected Masonic Building within the Province of Northumberland. The meeting venue and date are confirmed usually one week before the meeting, on the blog page of this website. All brethren are cordially invited to attend the meetings.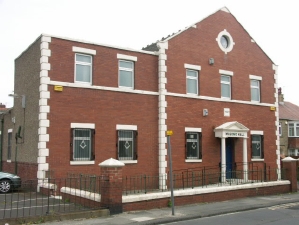 The LBC team consists of brethren from various lodges, from across the province, acting as Light Blues Coordinators for the various masonic buildings across the region. The brethren also carry out executive roles such as Chairman, Treasurer and Secretary, etc.
The purpose of the LBC is to support our newer brethren in the craft, our 'Light Blues'. The LBC organises monthly official visits to various lodges throughout the Province and all Light Blues are encouraged to participate in the visits, which allow newer brethren the opportunity to see new masonic temples and create and expand masonic friendships which are so important to the future of Freemasonry.
The LBC also organises social events which allow our Light Blues the opportunity to meet other brethren at a similar stage in their masonic development.