LBC Forthcoming Official Visits for 2021 & 2022
| | | | | | | |
| --- | --- | --- | --- | --- | --- | --- |
| Date | Day | Lodge | No | Location | Start time | Order of business |
| 19/11/2021 | Friday | Sion | 7562 | North Shields | 19:00 | 1st Degree |
| 08/12/2021 | Wednesday | George Stephenson | 3390 | Wylam | 19:00 | 1st Degree Tracing Board Presentation |
| 27/1/2022 | Thursday | De Ogle | 636 | Morpeth | 19:00 | TBC |
| 18/2/2022 | Friday | Newcastle Upon Tyne | 24 | Byker | 19:00 | Installation |
| 12/3/2022 | Saturday | Justice | 4421 | Byker | 18:00 | Third Degree |
| 28/4/2022 | Thursday | Duke of Connaught | 3892 | Wallsend | 19:00 | 1st degree – TBC |
| 12/5/2022 | Thursday | Delaval | 2568 | Maple Terrace | 19:00 | Double 1st degree – TBC |
| 15/6/2022 | Wednesday | Carliol | 5419 | Fern Avenue | 19:00 | TBC |
| 26/7/2022 | Tuesday | Risingham | 5761 | Bellingham | 19:00 | TBC |
| 3/8/2022 | Wednesday | St Cuthbert | 1902 | Bedlington | 19:00 | TBC |
| 24/8/22 | Wednesday | Ashington | 2868 | Ashingotn | 19:00 | TBC |
| 14/9/2022 | Wedensday | Lord Warkworth | 1879 | Amble | 19:00 | TBC |
| 3/10/2022 | Monday | Cowpen | 4824 | Blyth | 19:00 | TBC |
| 2/11/2022 | Wednesday | Alnwick | 1167 | Alnwick | 19:00 | TBC |
| 16/12/2022 | Friday | John Page | 3619 | Cramlington | 19:00 | TBC |
LBC Official Visit Reports
LBC Visit to Lodge Justice, No 4421, 12th March 2022
On Saturday 12the March 2022 eight Light Blues were in attendance for the official LBC visit to Lodge Justice No 4421 at Byker in Newcastle.
Brethren represented the following Lodges; Newcastle on Tyne – No 24, Lodge Justice – No 4421, St Anthony's – No 4423, Delaval – No 2568 and Comrades – No 2976 (Essex)
A great 3rd degree ceremony saw Bro. Chris England raised to the sublime degree of a Master Mason. A very welcoming and relaxed atmosphere at the festive board made for another excellent masonic evening.

LBC Visit to De Ogle Lodge, No 636, 27th January 2022
On Thursday 27th January 2022, the LBC visited De Ogle Lodge No 636, meeting at the Masonic Hall in Morpeth. A great night at De Ogle Lodge, who performed an excellent demonstration First Degree Ceremony. It was great to see Light Blue brethren occupying the three principal officer roles of WM, SW and JW.
In total we had 13 Light Blues present, representing the following lodges;
Ashington, Bothal, Homelyn, Newcastle Upon Tyne (24), St Anthony's, St Peters and of course De Ogle.
We look forward to our February visit to Newcastle Upon Tyne Lodge (no 24) which sees the installation of Master Elect and LBC Team member, Bro Mark Cordell . Come and join is if you are able.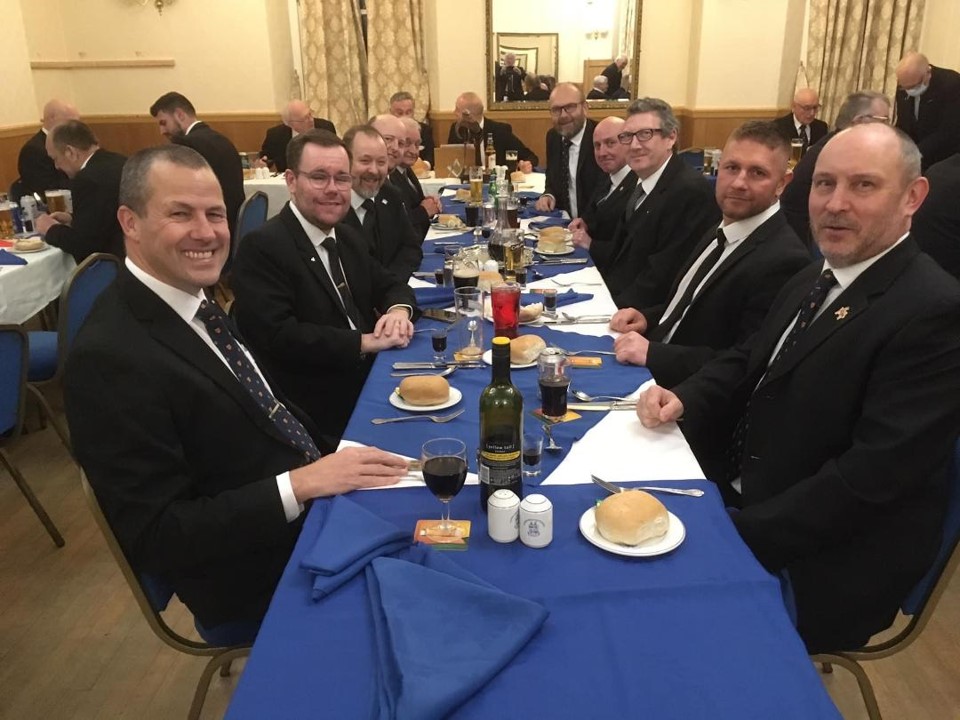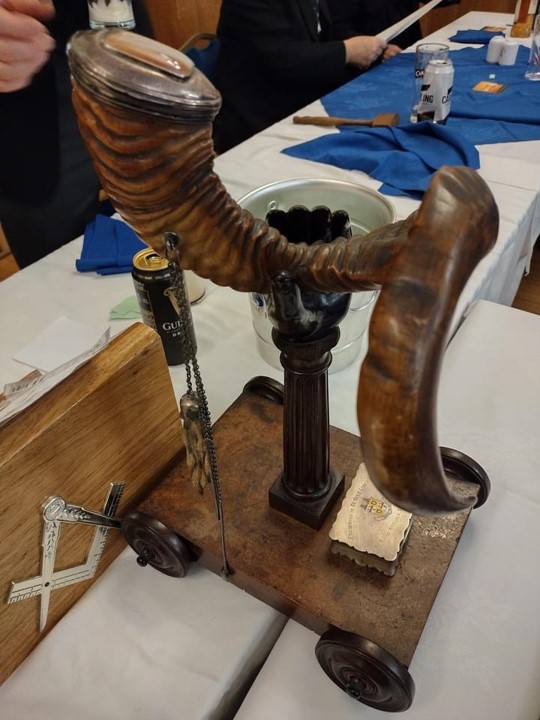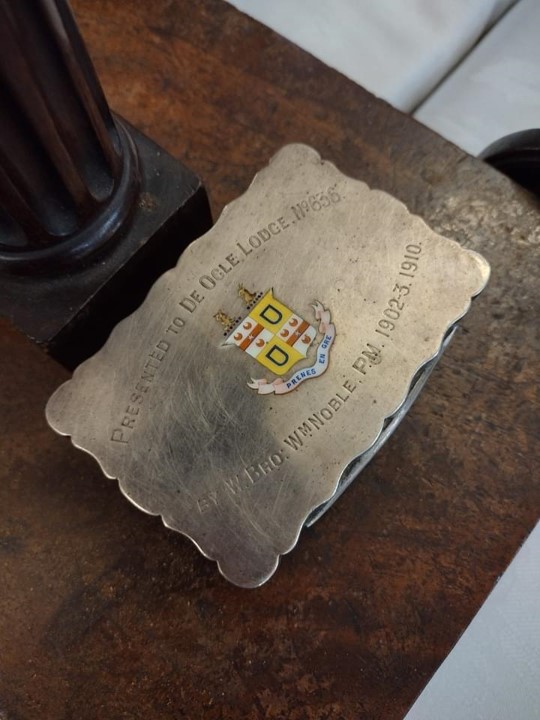 LBC Visit to Farne Lodge, No 5228, 19th June 2019
The LBC made an official visit to Farne Lodge, No 5228,based at Seahouses, on Wednesday the 19th June 2019. An excellent and interesting talk was delivered on Mine Warfare by WBro. M Byrne. The photographs shown below were taken during the evening.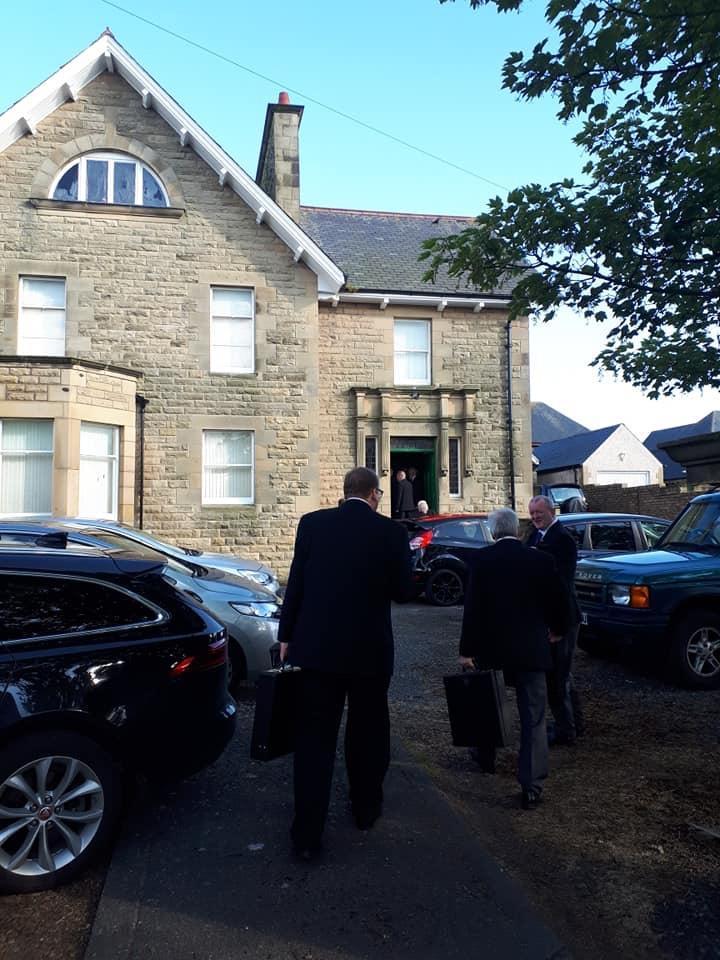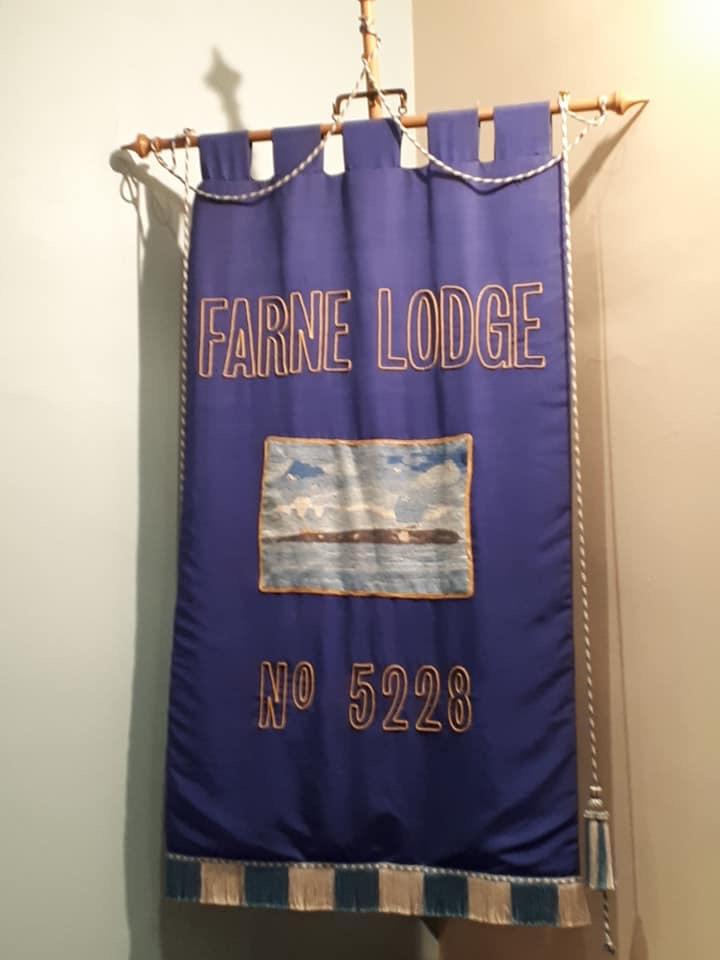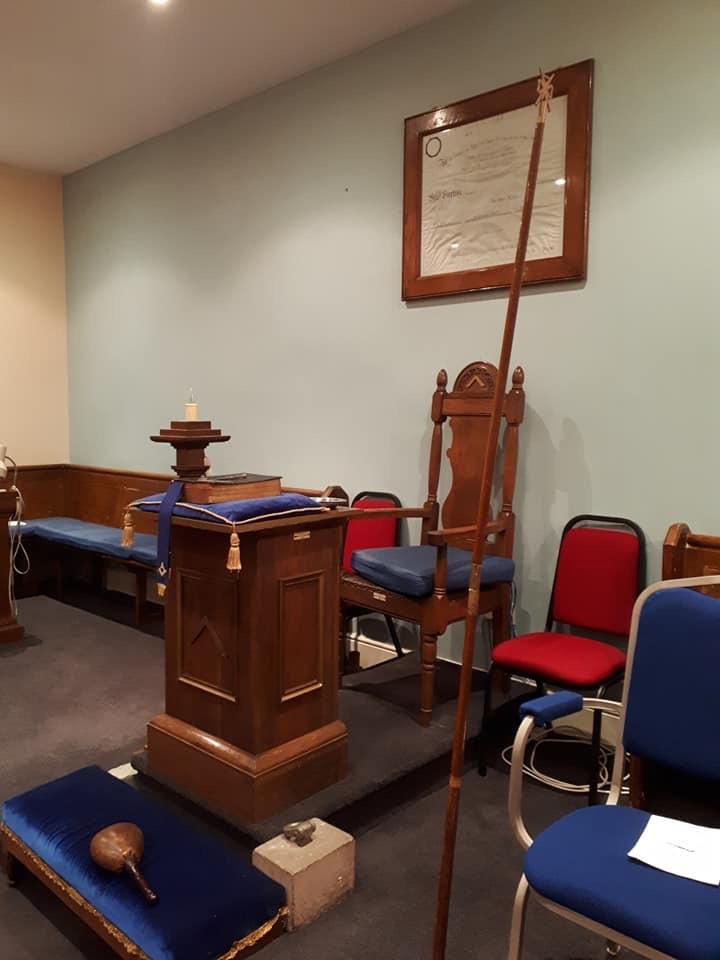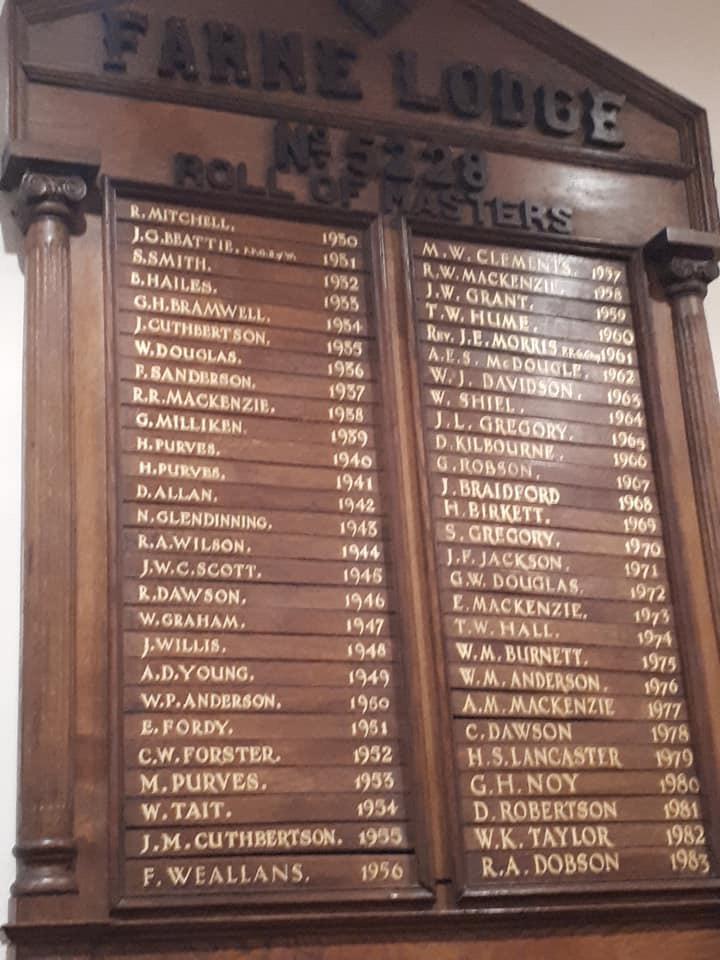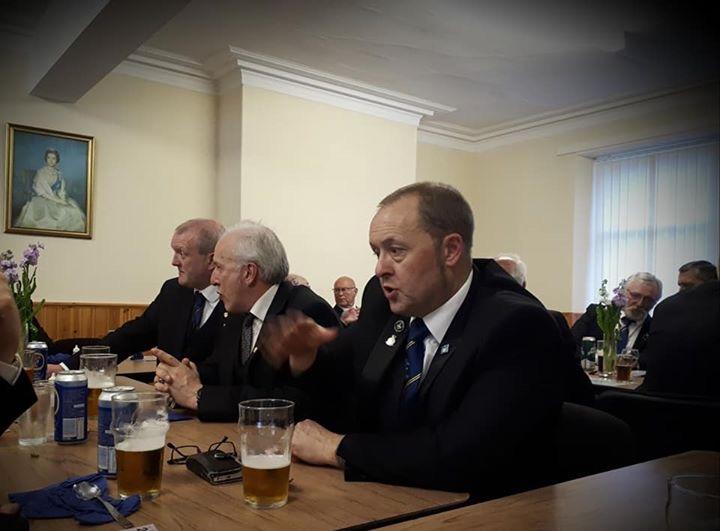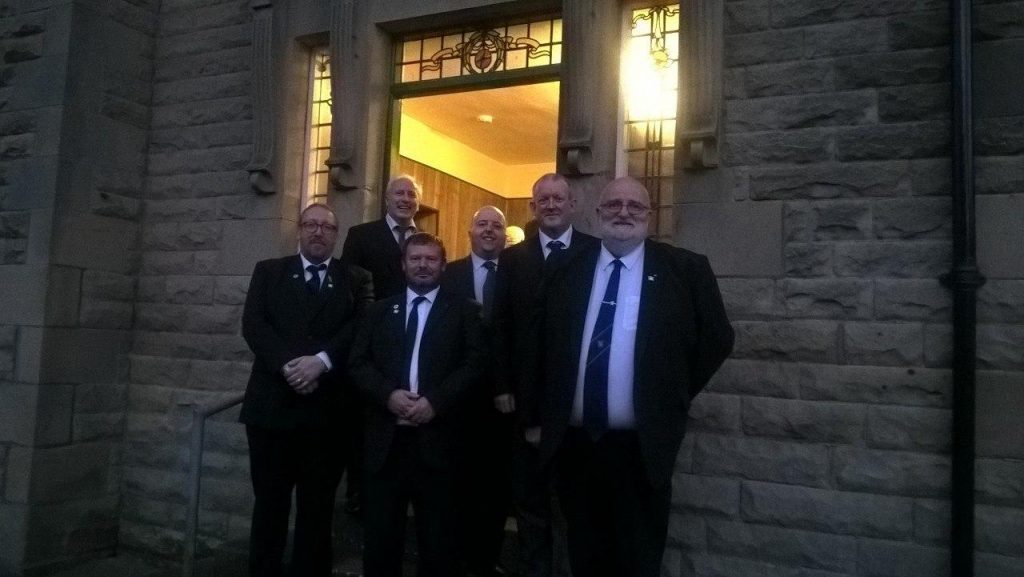 LBC Visit to Alnwick Lodge, No 1167, 1st May 2019
On Wednesday the 1st of May 2019 the LBC made an official visit to Alnwick Lodge, No. 1167 where a fascinating lecture was given, entitled, "Chevy Chase: Sideboard, Carver and Battle".
The photograph below shows some of the members of the LBC with the WM and members of Alnwick Lodge. The Sideboard, which formed part of the lecture, can be seen behind the group.